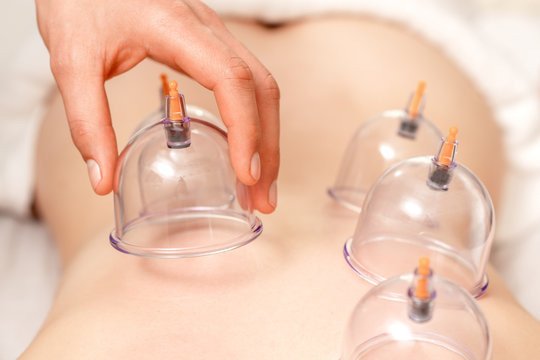 What Is Cupping?
Cupping is a technique that can be used for a variety of musculoskeletal problems, neuromuscular dysfunction, muscle imbalances and pain syndromes. Therapy is specifically aimed to help with muscular pain, myofascial pain syndrome, hypertonic and tender muscles, overuse injury and more.

Many muscular related conditions are thought to be a primary contributing factor to pain and other related symptoms. These conditions include, but are not limited to headaches, migraines, tension-type headaches, neck pain, back pain, shoulder pain, arm pain, tennis elbow, buttock pain, pelvic pain, leg pain, sciatica, hamstrings strains, calf tightness/spasms.
Cupping Helps With (but not limited to)
Headaches
Shoulder pain
Sciatica
Joint inflammation
Back pain
Sore or stiff neck
Low back pain
Sinus symptoms
Frozen shoulder
Tennis elbow
Joint pain
Tissue swelling
Muscle tension anywhere in the body
Does Cupping Hurt?
No, usually our practitioners will make the process as painless as possible. At times, the patient may feel a mild twitch or tenderness when the cups are placed onto the skin, and for a few hours afterwards, however the process is considered less painful than remedial massage therapy when applied to extremely tender areas or when a patient is sensitive to touch.
Benefits of Cupping
Pain relief
Promotion of healing
Increased range of motion
Increased circulation of blood
Provide instant muscle release
Return of correct biomechanics
Increased strength and functionality of muscle tissue
Can be used on hard to release muscle areas and groups (muscle strain, hip/glute/hamstring/quadricep injuries)
What Is Myofascial Cupping?
Myofascial Cupping is a remedial massage technique that gently lifts the muscle tissue using suction cups to help the fascia return to an ideal position whilst increasing blood circulation and the bodies' ability to absorb nutrients within the area the cups are applied to, thus speeding up repair of the area and its surrounding tissues.
Book an Appointment